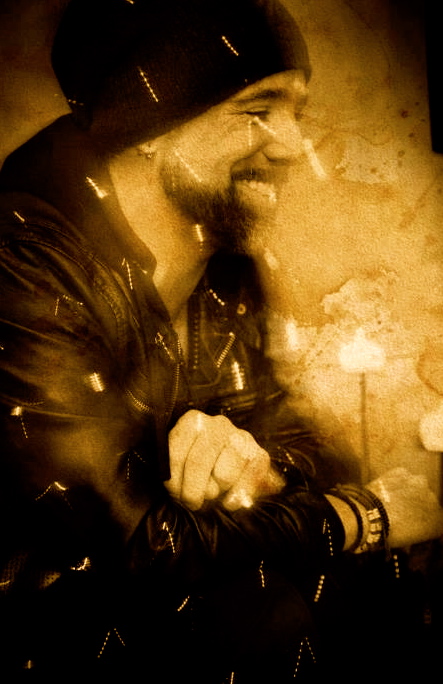 Combining the harmony of midwest Americana with singer-songwriter sensibility and outlining an acoustic instrumentation with a rock edge Rob Anthony is truly at home. His music reaches into the soul, grabs the struggles of the inner man, and weaves it into a solid personal connection between musician and listener.
A native of Wisconsin, Anthony has more going for him than allure. What singles Anthony out from a musical standpoint is his ability to write lyrics people can relate to within the structure of great acoustic guitar.
Stumbling upon an old Rickenbacker in an attic was a chance encounter that changed the direction of Anthony's life forever. From bands in high school to his first major record deal to his current blend of Americana, Anthony's career has spanned over twenty years and received numerous awards; awards that have shown he understands the importance of evolution in a musician's career.
But to fully understand the heart of Rob Anthony, all one needs to do is listen to his music. His personal connection reaches out to everyone, transcending far beyond the typical muse of singer-songwriters.
It is within this heart that we discover Rob Anthony is more than a musician. His focus is community-wide and Anthony's philanthropic pursuits dig as deep into the heart of America as his music. In Anthony's own words, "The true measure of a successful artist is reflected in what is given back to the community." And, give back he does. Anthony regularly supports various charitable organizations.
While that chance encounter with an old Rickenbacker sealed his future many years ago, Anthony continues to perform and create with the understanding that music is the medium in which lives can be touched, changed, and understood.
Anthony's solo debut 'Hard To Believe' received high praise and pedigree within the music industry. Acoustic Magazine states, "Give this man a Grammy for best Americana song. 'Just Me and You' deserves it." Anthony's release went on to win several awards including Pop/Rock Song of the Year and Adult Contemporary Song of the Year for the title track by the Songwriters of Wisconsin International (SOWI) and he received an Honorary Milestone Achievement Award from his hometown of Appleton, WI.
Anthony's second release 'Where I Belong' earned him awards including People's Choice Artist and Acoustic Artist of the Year from the Wisconsin Area Music Industry (WAMI). 'Where I Belong' placed his pleasant, raspy voice front and center with powerful acoustic rhythms on songs that clearly drew from the common experiences we all face day-to-day: love, loss, desire, and faith. Most importantly, the release focuses on our hopes and dreams. According to Anthony, "We all have dreams. We need them. And, through my music I continue mine and hope to inspire others to follow theirs."
'Inside You And Inside Me', Anthony's third release, broke new ground for his entrepreneurial venture. His involvement was based upon the title track, which lead to a nationwide campaign about the power of entrepreneurialism. As a result, he worked with high school and college students encouraging them to explore their entrepreneurial potential.
Armed with a guitar and a bare soul, Rob Anthony came to appreciate the direct approach of the acoustic style to deeply impact those around him. His fourth album release 'While The World Sleeps', brought that impact close to home for those in the trucking industry with the song "Down The Road". Additionally, Anthony has supported efforts through the Red Cross and Special Olympics of Wisconsin with the songs "You Gotta Love" and "We All Need". Prior to his performance, at the Special Olympics 30th Anniversary State Games opening ceremonies in his hometown of Stevens Point Wisconsin, Rob addressed an audience of 10,000 these heartfelt words, "We All Need is dedicated to all of you Special Olympians & families who encourage and inspire us to be the best we can be during life's toughest challenges."
"The true measure of a successful artist is reflected in what is given back to the community."
Anthony's two-album compilation titled 'Is This The Plan' finds the songwriter exploring his evolution as a songwriter. A journey of music rather than a greatest hits collection the songs are arranged thematically rather than chronologically, an approach that showcases Anthony's strengths–His soulful style of songwriting showers the listener with intense emotion from the heart stripping songs of faith, freedom, hope and inspiration down to an intimate thought-provoking moment between musician and listener. Those talents shine through whether he's wielding an acoustic guitar painting a vivid picture of Americana and the struggles of the American Trucker (Down The Road) or encouraging & inspiring us to be the best we can be during life's toughest challenges (We All Need).
"This two-disc set is a very intimate reflection of the body of music I've created with my band & acoustically over the past 10 years with live takes, writing demos & many new songs including "Is This The Plan" which conveys my small town roots to past struggles only to find true meaning through the power of song. Truly hope you enjoy what I put together." 
Wrapped in a blanket of Americana allure, tugging on a few heartstrings, Rob Anthony's latest album release 'Where We Are' leaves us with the sense of an artist who reaches into the soul, grabs the struggles of the inner man, and weaves it into a solid personal connection.
"It got spiritual", Anthony admits, "when energies connect on a musical level, it's unlike any other experience. I've spent a lifetime evolving musically & spiritually, being criticized, being praised. It's made me weak, it's made me strong. Here's to coming to terms with it all, the past, the now & living for the future. Write from the heart, sing from the soul, don't ever let go…" 
While Anthony has certainly enjoyed his success as a singer/songwriter, one thing is certain, he hasn't forgotten where he's come from. His constant touring, contributions to his community and pure love of music has won fans over. His charity, hope and faith along side the American ballad continues to guide his brand of Americana which makes his musical journey remarkable indeed.
2015 'Singer/Songwriter of the Year' WAMI Nominee
2014 'Singer/Songwriter of the Year' WAMI Nominee
2013 'Singer/Songwriter of the Year' WAMI Nominee
2012 'Singer/Songwriter of the Year' WAMI Nominee
2010 'Peoples Choice Artist' WAMI AWARD WINNER
2009 'Proud supporter of the Red Cross Heroes Campaign'
2008 'Proud sponsor of Special Olympics of WI'
2006 'Pop Group of the Year' WAMI Nominee
2005 'Peoples Choice Artist' WAMI AWARD WINNER
2005 'Acoustic Artist of the Year' WAMI AWARD WINNER
2005 'Male Vocalist of the Year' WAMI Nominee
2004 'Peoples Choice Artist' WAMI AWARD WINNER
2004 'Acoustic Artist of the Year' WAMI Nominee
2002 'Post Crescent Honorary Milestone Achievement Award'
2001 'Pop/Rock Song of the Year' SOWI AWARD WINNER
2000 'Adult Contemporary Song of the Year' SOWI AWARD WINNER