As my way of thank you for being one of my subscribers visiting my site I want to give you a FREE copy of my acoustic album 'While The World Sleeps'.
To get the album all you need to do is DOWNLOAD BELOW.
The entire album, no strings attached. All I ask is you grab your favorite wine or coffee, listen, play often and share this acoustic cafe mix. Thanks for being part of the journey.
AND…
If you'd like to hear the most recent milestone of that journey, click hear to listen to my most recent album, 'Is This The Plan'.
Thanks again for all the support!
One love,
Rob
________________________________________________________________________________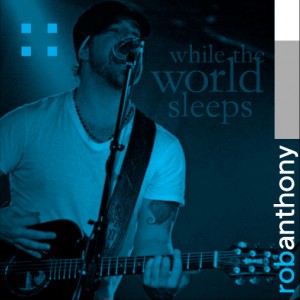 While The World Sleeps
By Acoustic Magazine
An acoustic demo project found the singer-songwriter comfortably baring his heart on his sleeve.
The album bleeds sincerity, from the realization that 'I Don't Need Much' to his humbling cry for America in the record's title track 'While The World Sleeps'. Mid-album on nationwide hit 'DownThe Road' ~ an acoustic tribute to truckers who daily help to move the world along, Rob sings: "The sun sets down on a painted sky/It's always hard to say goodbye/I never leave your smile behind/I take all of you with me," coloring an emotional canvas torn between duty and guilt, pride and love, that resonates with the American people.
While The World Sleeps strips songs of faith, freedom, hope & inspiration down to an intimate thought-provoking moment between musician & listener.